Why We Guarantee a 15% Revenue Lift
What if you could get a guarantee when you hire an SEO firm? Not a guarantee of impressions or rankings or eyes on your site, but an actual dollar-value guarantee?
RankSense offers a guaranteed lift in revenue of 15% with our SEO software. Such a guarantee is virtually non-existent amongst reputable SEO firms.
We believe in offering a guaranteed lift in revenue because it aligns our goals with the goals of our clients.
We are only successful if our clients are – this is how it should be.
Here's the caveat:
We are able to offer this guarantee because we are selective about who we work with. We will only sign on a client if we're confident that they will be successful with us. More on that later.
Why most SEOs don't offer a guarantee
It's no secret:
The consensus amongst reputable SEO firms is that you cannot offer guaranteed rankings.
Josh Steimle explains in his article "Why the Best SEO Firms Don't Offer Guaranteed Results" that rankings are inherently unstable, and are in fact, a poor metric for overall performance.
(We would agree on those points.)
Moz's Rand Fishkin echoed similar sentiments in an older article.
Google itself warns that no one can guarantee a #1 ranking.
However, if the only way that you know to increase organic traffic is to increase rankings, you will find yourself facing clear limitations.
Even if we shift the focus from rankings to more tangible metrics like organic traffic and revenue, there are still several reasons why SEO experts don't offer guarantees:
SEO requires work on the client side.

If all of the SEO recommendations are not completed, or if they aren't correctly executed, results can be impacted through no fault of the SEO firm.
Unrelated website changes can negatively affect SEO.

If the client is making other changes to the website at the same time as SEO changes are being made, they may impact organic traffic and/or revenue.
Linking results to a particular campaign or tactic is nearly impossible.

SEO changes take time to implement and are often rolled out gradually. It also takes time for search engines to pick up changes. These delays can be several months in total, so even with good results, it's difficult to link the effect to its cause.
And perhaps most importantly…
Search engine algorithms are a moving target.

Google is continuously tweaking its algorithms to ensure it can deliver the most relevant content to its users. In the past, major algorithm changes have suddenly altered the SEO landscape. SEO experts are highly aware that what works today might not work in a few months.
Why we want to offer a guarantee anyway
Reputable SEO experts avoid guarantees for good reason. From their perspective, it's the ethical thing to do.
Unfortunately, some who offer SEO services are unethical. They know that it commonly takes six months to see SEO results. Clients expect to pay for SEO services for several months before they see the payoff.
These unethical SEOs can use tactics that are ultimately ineffective or even harmful, but they will have gotten their paycheck anyway. They take advantage of the fact that no one expects a guarantee in SEO.
At a small company, six months of effort with no results can have a big impact. That budget could have been allocated to another channel that would have been more effective. It could even cost someone their job.
That is part of why we offer a guarantee: to allay client fears about SEO.
However, the guarantee serves a greater purpose than that. Our guarantee is offered to clients who choose our revenue-share pricing option. This means that the more successful our clients are, the more successful we are.
Thus, our company culture is centered on results, not activity.
By focusing on results, we align our culture and processes with client expectations.
Clients focus on ROI; so do we.
In B2B, ROI-focused companies stand the test of time. By combining a guarantee with revenue sharing, we create win-wins with our clients.
How we're able to offer a guarantee
Of course, many SEO experts would probably like to offer guarantees, but they don't for all the reasons mentioned earlier. So how is it possible for us to guarantee results?
There are five reasons we are able to offer a guarantee when other SEO firms cannot:
We take a reliable approach to SEO
We implement SEO changes directly
We automate tedious work
We track every change
We choose who to work with
We take a reliable approach to SEO
We drive our initial results by focusing on foundational SEO – the infrastructure and coding needed to help search engines find your site's pages.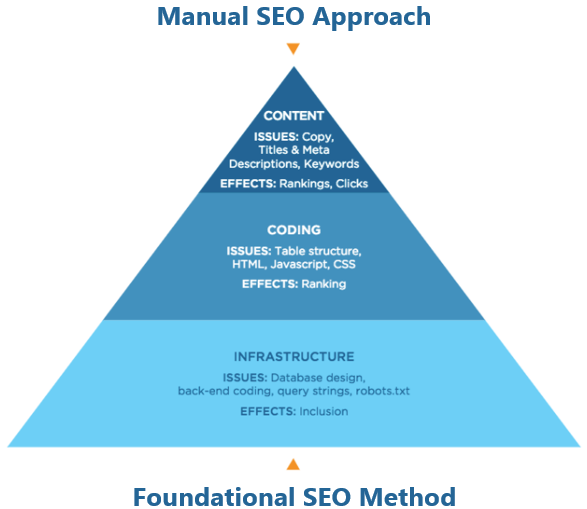 Foundational SEO helps us drive results by getting more pages indexed. On ecommerce sites, product pages are generally the ones that don't get indexed well. The more product pages that are indexed, the more sales you'll have.
Google does not want you or anyone else to manipulate rankings. However, because Google's goal is to be the best resource to find information online, it's in their best interest to crawl and index any valuable site.
For this reason, Google is very transparent about foundational SEO, providing many tools and resources to help website owners make sure their site is crawled and indexed.
Many ecommerce sites (and other large sites) suffer from indexation issues, so improving indexation is a reliable way to drive more traffic to the site.
Recall the concern that search engine algorithms are a moving target?
Foundational SEO best practices don't change much, so we don't have to worry about new algorithms destroying our work. It's actually in Google's best interest to keep foundational SEO fairly stable, so that it can keep indexing the whole wide web without a problem.
We implement SEO changes directly
I'll let you in on a secret:
There is a significant hurdle in SEO that isn't talked about much.
Want to know what it is?
Actually getting all of the recommendations implemented.
Sometimes the clients' developers are inundated with other tasks. Sometimes there's a large amount of tedious work that falls by the wayside. And sometimes, the ecommerce platform will not even allow you to make the recommended changes.
Our SEO platform allows us to implement all of our recommendations, on any platform.
Busy developers? They don't need to lift a finger after installing our platform.
Tedious tasks? They'll all be automated.
Platform issues? We will totally circumvent it.
How our platform is able to do all of this? That is a bigger topic than I can cover here, but you can read more about how it works.
Most SEO experts aren't able to ensure that their clients implement the recommendations completely and without error, so it's risky to offer a guarantee. Even if they are confident in their recommendations, the recommendations may not get executed.
We automate tedious work
Much of foundational SEO work is time-consuming.
And tedious.
And technical.
These qualities make it less-than-fun for humans, but perfect for computers.
We use automation and artificial intelligence to execute SEO recommendations en masse across your site.
I could go on at length about how exciting it is to be able to automate the boring stuff, but the point is this – automation helps us offer a guarantee.
Because the bulk of the work is automated, we don't have the same investment of man-hours into our SEO work as most agencies doing manual work. If a client wasn't seeing results and needed to exercise their right to a guarantee, the SEO agency will have already spent a considerable amount on wages for their staff to create content, market it, and so on. We don't have the same cost structure as agencies who do SEO manually.
We track every change
When the SEO process takes months, and involves a lot of different changes happening at the same time, it's difficult to link success (or failure) to the exact cause.
Automation enables us to implement changes quickly, which is great. But it also allows us to track every change to the website and the impact it has on traffic. This goes for SEO changes that we implement as well as client-initiated changes.
When you:
Speed up the SEO process,

Follow foundational SEO best practices, and

Track the results for each type of SEO change,
It becomes pretty clear what changes led to an increase in traffic.
Here's an example from a recent ecommerce client, MoreBeer:
We applied SEO changes to morebeer.com in January, then saw a dramatic uptick in the organic traffic to the green group in early February.
There is more to this case than is shown in this graph, but hopefully you get the idea – we're able to use data science to link cause and effect for organic traffic changes.
This takes care of two of the objections to SEO guarantees:
We are able to see which changes have an effect on organic traffic within a few weeks of implementation, linking cause and effect; and

We can track the SEO effect of client-initiated changes as well as our own.
We choose who to work with
We are selective with who we work with because we want to create win-win situations with our clients.
We've learned quite a bit about how to predict who will be a good fit for us, and who won't. To assess fit, we first scan the prospective client's site for high-impact foundational SEO issues using our free scan. Our software can fix every issue on that scan, plus a few more.
Then we do a business case with the client to see if a relationship would be profitable for both the client and ourselves.
If the client has big SEO problems that our software can solve, then we can be confident that we can deliver results. If not, then we aren't a good fit for them, and we shouldn't be taking their money anyway.
Since we measure performance, we are able to improve our ability to judge who will be a good fit for us. We may not succeed 100% of the time, but we learn from our mistakes and become more selective.
Who we are a good fit for
When we offer our guarantee, we are also entering into a partnership. We're agreeing to be paid on revenue sharing, so we're invested in the outcome. For that reason, we partner with companies that have a clearly differentiated value proposition and a solid reputation. These companies deserve to rank highly.
Companies with a lean digital marketing team tend to be a good fit. There is often one person who is responsible for multiple marketing channels. The digital marketer has limited time and resources to devote to SEO, but ambitious growth goals. We're able to offload time-consuming tasks onto the software, and provide our SEO expertise to guide their efforts.
We're also a good fit for an in-house SEO manager who is responsible for multiple brand websites or a very large site. For these clients, we provide a scalable, low-maintenance solution for tedious work so that the in-house person can focus on the elements of SEO that need a human touch.
Our guarantee
We guarantee a 15% increase in organic traffic to qualified clients. If we fall short of that, we will refund fees proportionately, so that you see the ROI we promised during our business case call.
Some potential clients may have concerns about negative repercussions of using our service. So, we further guarantee that if your site is penalized by search engines, or your traffic is negatively impacted by work that we did, we will refund 100% of your fees. We will also give you a year of free consulting until we reverse the problem and raise your traffic above where it was before we started working with you.
We make these guarantees so that our clients know we will be a trusted partner. We're able to offer them for all the reasons listed above, but also because in all my years of getting great SEO results for clients, I haven't seen the need to cut any corners.
I jokingly tell prospects, "I've only been doing SEO for 15 years." I know from experience what SEO issues present a good opportunity to create ROI. And of course, that experience is built into our processes, our team, and our software to make sure we can deliver.
Key takeaways
Even though most reputable SEOs do not offer guarantees, our unique approach to SEO allows us to.

Through automation, we can consistently apply foundational SEO best practices across our clients' sites and track the outcome of every change.

We are selective about who we work with to ensure we can deliver a great ROI for every client we accept.
Hamlet Batista
CEO
RankSense - Reclaiming SEO Revenue for Retailers